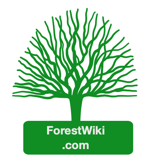 Word Press Versus the Forest Wiki
WordPress template files are usually edited on the file system which requires you to have access to the server. Forest Wiki template files are edited in the browser. Often that is more convenient.
WordPress is a list of articles, which can be manually organized as a tree by assigning a path to each file. But it is not really a tree. To reorganize the tree, AFAIK, one has to manually edit the path for each page on that branch of the tree.
Built using the Forest Map Wiki